VICI Off Road Electric Scooter [500W-1000W / 48V / 15AH]
VICI Off Road Electric Scooter [500W-1000W / 48V / 15AH]

VICI Off Road Electric Scooter – Adventure In Style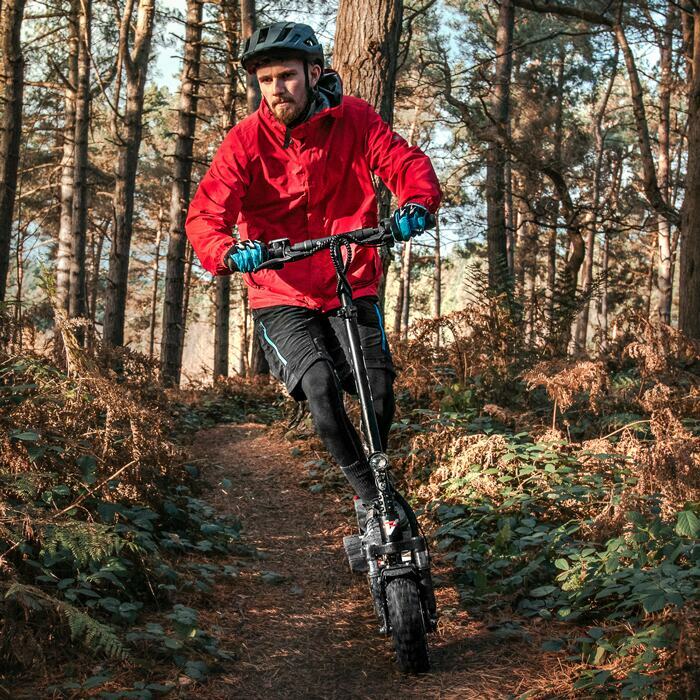 ULTIMATE OFF ROADER
Designed specifically for off-road adventures, this VICI E Scooter is perfectly equipped to cope with all kinds of conditions. Suitable for shallow water & features anti-skid tyres.
RANGE OF UPGRADES
Upgrade your package to include all your E Scooter essentials. Our high-quality accessories include helmets, protective padding, a scooter travel bag & even a detachable seat.
CHOICE OF MOTOR
The VICI Off Road Electronic Scooter is available in a choice of 500W or 1000W motor. The 1000W version boasts an impressive range of up 50km at speeds of up to 45kph.
Description
VICI OFF ROAD ELECTRIC SCOOTER – OFF ROAD 500W OR 1000W ELECTRIC SCOOTER
Our powerful VICI Off Road Electric Scooters are engineered to conquer off-road terrain and hills with ease. They have a top speed of 40-45kph, a maximum range of 40-50km and a charge time of 7-8 hours (UK, EURO & USA plug adapters provided). Motor options available for motorised scooter = 500W or Dual 500W (1000W). Optional seat available to suit.
The adjustable height handlebars feature an LED digital control panel, front/rear brake levers, thumb accelerator, electric horn, left/right indicator switch, light switch and soft rubber hand grips. The LED panel displays: Your Speed, Speed Setting & Battery Life. The LED buttons control the following: Speed Setting & Power On/Off.
Vici Off Road Electric Scooters are optimized for off-road driving on hilly terrains, this includes (but not limited to): Roads, Fields, Woodland Trails, Countryside Hills and Mountains. The large 10" OD x 3" extra wide scooter wheels with deep tread air tyres, are mounted on a twin front and dual rear shock absorption suspension system. This gives the rider enhanced grip, comfort and control needed for the wet, muddy and bumpy riding conditions likely to be faced off-roading. The fast and powerful 500W motor with a 48v/15ah battery can easily ride up hills (up to 35°) and offers long distance riding (40-50km). You can upgrade this scooter to 2x500W motors front and back (=1000W) for more speed and power up steeper hills (up to 45°).
This E-Scooter comes with an upgraded IP65 waterproof rating, which is essential for off-road riding over long distances. This enables the E-Scooter to be driven in rain and deep puddles (however do not submerge scooter decks/foot deck below water).
The front and rear disk brakes are independently controlled via the right/left brake levers on the handlebars. This gives you a lot of variable control of the scooter braking, which expert scooter riders tend to command. Both disc brakes can also be simply adjusted with an allen-key to make it more/less reactive, but please ensure you are qualified to do this and test/check before riding after adjustments are made.
Scooter parts this off road scooter is fitted with include a front (white) and rear (red) energy saving LED lights, so they do not drain the battery life too much when on. The rear light also features left/right indicator lights (in yellow) and flashes (in red) when braking for safety. We also supply scooter helmets (sold separately) with a large triangular rear LED light to further improve safety and rider visibility in the dark.
The large foot deck with sandpaper grip ensures you are always well balanced on this motor scooter to avoid falling off. The heavy-duty aluminium framework can handle 150kg (max.) weight load. When not in use, this electric scooter folds down in seconds to a compact size of 118cm x 23cm x 48cm that fits inside most cars. The folding scooter weighs 24/26kg so it can be carried by hand over short distances (we wouldn't recommend carrying over long distances).
To complete the package this E-Scooter is fitted with a spring-loaded kickstand and extra heavy aluminium mud guards.
Optional seat attachment available to suit so you can have your very own electric scooter with seat.
All VICI E-Scooters are CE & ROHS and tested/certified as standard. This ensures the electrical build of the scooter is safe and made to the highest quality standards.
The Off-Road E-Scooter is supplied with a 1 year warranty against manufacturing defect. Full warranty information can be viewed/downloaded here.
For best battery life (and to ensure the batter does not fail), please ensure E-Scooter is used 1-2 times per month and is fully charged regularly. This is common advice for all products powered by lithium batteries.
E-Scooters are used at the user's own risk. Please drive safely and always comply to country, local, state and federal laws. Further safety information can be viewed/downloaded here.
The VICI Off Road Electric Scooters are powerful with advance control features. We do not advise 1st time/beginner users to buy this scooter and advise considering these models instead: City Compact, City Commuter or City Explorer.
Spécifications
VICI OFF ROAD ELECTRIC SCOOTER SPECIFICATIONS
SCOOTER FEATURES:
500W 3 Speed Setting: 10kph (6.2mph) | 20kph (12.4mph) | 40kph (24.8mph)
1000W 3 Speed Setting: 15kph (9.3mph) | 25kph (15.5mph) | 45kph (27.9mph)
Range: 500W = 40km (24.8m) | 1000W = 50km (31.1m) – dependent on terrain, user weight & weather conditions
Tested Hill Climb: 500W = 35° | 1000W = 45°
Charging Time: 7-8 hours
LED Lights: Front (White), Rear (Red), Rear Indicators (Yellow)
LCD Screen Controls: Speed & Power
Scooter Controls: Thumb Accelerator, Brake Levers, Lights, Horn & Indicators
Scooter Brakes: Lever Operated Disk Brake (Front & Rear)
Twin Front & Dual Rear Suspension
Tyres: Air Type Inner Tube, Deep Tread, Anti-Skid Rubber Tyres
Lightweight & portable with foldaway design
Scooter comes with foot operated spring loaded kickstand (keeps scooter upright when not in use)
POWER:
Motor Type: Brushless DC Motor
Motor Rated Power: 500W or 2x500W (=1000W)
Motor Rated Voltage: 48V
Battery Capacity: 15AH
Battery Voltage: 48V
DIMENSIONS:
When Set Up: 115cm x 23cm x 100/130cm
When Folded: 118cm x 23cm x 48cm
500W Product Weight: 24kg (52.9lbs)
500W Package Weight: 26kg (57.3lbs)
1000W Product Weight: 26kg (57.3lbs)
1000W Package Weight: 28kg (61.7lbs)
Max. User Weight: 150kg (330lbs)
MATERIALS:
Frame: High Strength Aluminium
Handlebar Grip: Texturized Rubber
Floor Deck Grip: Sand Paper
Wheel Type: Air Type Inner Tube, Deep Tread, Anti-Skid Rubber Tyre
MISCELLANEOUS
Colour: Black with red trim
Handlebar Setup: Folding
Waterproof Rating: IP65
Safety Certification: CE / UN
Scooter Warranty: 1 Year
Battery Warranty: 6 Months
PLEASE NOTE: This eScooter is not to be used on public highways, only on private property with the land owners permission
WHAT YOU GET:
1 x Folding Electric Scooter
1 x Charger
1 x UK Plug Adapter
1 x EURO Plug Adapter
1 x USA Plug Adapter
1 x User Manual
UPGRADE OPTIONS
Scooter Helmet with Light: Small (48-54cm), Medium (54-57cm) or Large (57-61cm)
Protective Padding (Knees, Elbows & Wrists): Small or Medium
Travel Bag – Attaches to scooter for storage
Scooter Seat
Récemment vu
10 Gourdes Hygiéniques (1 Litre) avec Porte-Gourde Pliable
39,99 €
FORZA Plots de Délimitation de Football
12,99 €
RapidFire Filet de Rebond à Main de Hockey sur Gazon
49,99 €
FORZA Ballon de Netball Imperméable pour l'Entraînement
11,99 €
Filet de Rebond de Football Géant (2,7m x 2,2m)
199,99 €